---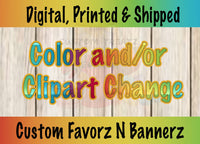 COLOR Change - CLIPART Change - BACKGROUND Change
This listing will allow the color change of any design.
The background change to your design.
Clipart change to your design.
***Pick:
Choose your favorite design and purchase.
***Submit: Submit your information into the note section at the time of sale. Here's what you need to add or change.
***Review:
***FIRST PROOFS WILL BE DELIVERED IN 2-3 BUSINESS DAYS. FINAL ITEM (if revised) WILL BE DELIVERED NO LATER THAN 2 BUSINESS DAY AFTER APPROVAL. Please, take time to review the design for errors as I will copy/paste from your original note so please make sure everything is correct when submitting. Once you've reviewed and confirmed everything is correct, you are now ready to print. YOU WILL ONLY RECEIVE ONE TEXT/INFO REVISION. If you notice any other error after you've already received a revision, you will need to pay for any extra revisions.
***PROCESSING TIME FOR PHYSICAL SHIPPED/MAILED ITEMS IS 1-2 WEEKS. ONCE APPROVED YOUR ITEM IS SET TO SHIP OUT. PLEASE KEEP IN MIND THAT COLORS VARY ON AND OFF SCREEN AND FROM PRINTER TO PRINTER.
💗COPYRIGHT
THIS LISTING IS FOR MY CREATIVE SERVICE AND TIME SPEND DESIGNING AND PERSONALIZING YOUR ITEM. ALL COPYRIGHT AND TRADEMARKS OF THE CHARACTER IMAGES USED BELONG TO THEIR RESPECTIVE OWNERS AND ARE NOT BEING SOLD. ALL PRINTABLES ARE FOR PERSONAL USE ONLY, NOT TO BE RESOLD, SHARED, OR ALTERED. I DO NOT SELL OR CLAIM OWNERSHIP OF THE LICENSED CHARACTERS USED IN MY DESIGNS. THEY ARE INSPIRATION ONLY.
***Due to orders being custom, they are no returns, exchanges, cancellations or refunds that will be accepted.
****Thank you for shopping with Custom Favorz N Bannerz. We will not assume responsibility for lost or stolen packages. Please, contact me ahead of time about insurance options on packages.